ROLLY CRUMP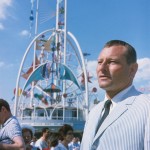 A true "original," even among Imagineers, Rolly drew forth genius in others. Born February 27, 1930, in Alhambra, California, Rolly took a pay cut as a "dipper" in a ceramic factory to join Walt Disney Studios in 1952, and to help pay bills, built sewer man holes on weekends. He served as an in-between artist and later, assistant animator, on various classic Disney films.
In 1959, he joined show design at WED (Walter Elias Disney), Enterprises, now known as Walt Disney Imagineering. There, he became one of Walt's key designers for some of Disneyland's groundbreaking new attractions and shops, including Haunted Mansion, Enchanted Tiki Room, it's a small world, and Adventureland Bazaar. He continued working on and off for Disney for years, including contributing ideas to projects for Walt Disney World's Magic Kingdom & EPCOT Center. Because of his hard work and many contributions to the company, Rolly was inducted as a Disney Legend in 2004.
Aside from Disney, Crump launched Mariposa Design Group, his own design firm, and consulted on projects including Busch Gardens in Florida and California, the ABC Wildlife Preserve in Maryland, and Ringling Brothers & Barnum and Bailey Circus World in Florida, the Cousteau Ocean Center in Norfolk, Virginia, and much more.